The NFL's Crucial Catch mission is to fight cancer through early detection and risk reduction. The league, its clubs, players, the NFL Players Association and the American Cancer Society are committed to providing individuals with the tools they need to help them better understand early detection and ways to reduce their cancer risk. Each year, every NFL team raises awareness during their Crucial Catch game, which features on-field and in-stadium Crucial Catch elements. Crucial Catch games also present a special opportunity to honor cancer survivors and those currently battling cancer.
CANCER SCREENING SAVES LIVES.
Some cancers can be found early, before they have had a chance to grow and spread. The 5-year survival rate for many cancers is over 90% when detected early. Getting screened is crucial to catching cancer early when it may be easier to treat. Make your play and find your local cancer screening center.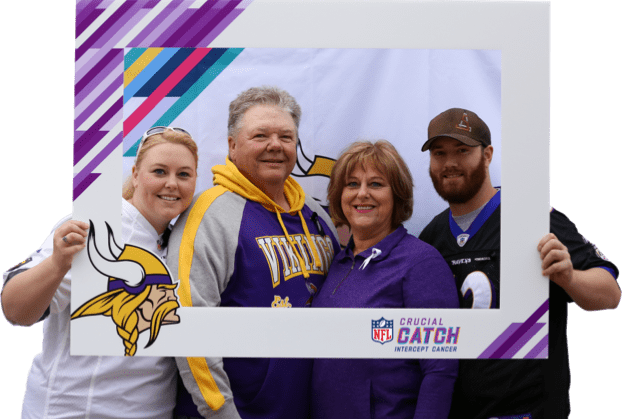 START THE CLOCK AND SCHEDULE YOUR SCREENING REMINDER.
Get text, email, and calendar reminders to find and schedule a screening appointment.
CARE AND HOPE ARE ALWAYS ON CALL.
Need more information on screening? Have you been diagnosed with cancer? Our live chat and helpline are here to help.
Call our 24/7 cancer helpline
Use our live chat M-F, 8 a.m. to 7:30 p.m. ET.
ADDITIONAL RESOURCES.
BE PREPARED TO TALK TO YOUR DOCTOR
Still have questions about screening? Take this printable reference guide with you to a doctor's appointment or share with loved ones.
HAVE YOU BEEN DIAGNOSED WITH CANCER?
A cancer diagnosis impacts many parts of your life, both physically and emotionally. Learn how to prepare for treatment and adjust to life with cancer.
THE IMPACT OF SLEEP
The American Cancer Society and Sleep Number have formed a long-term partnership to embark upon foundational sleep research, informing the first-ever sleep guidelines for cancer. Check out the Sleep Study to see why it's important to identify the impacts of sleep quality.
EARLY DETECTION SURVIVAL RATES
Early detection can make a big difference in survival rates. Five-year survival rates show what percentage of people are still alive five years after they were diagnosed. This information will help you understand how likely treatment is to be successful if caught early.
ADDITIONAL CRUCIAL CATCH LINKS.